Let's Get Acquainted
Complimentary Exam, X-rays, and Oral Cancer Screening
New patients only. X-rays not transferable.

Smile Makeovers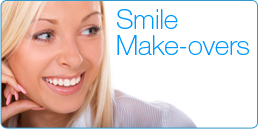 All Family Dental Office is the Premier Smile Makeover Specialist in Lancaster CA. But what is a Smile Makeover? A Smile Makeover means changing the look of your teeth, gums, or lips in order to perfect your smile. What's involved in a Smile Makeover depends on the goals of the patient. The Dentists in Lancaster, CA at All Family Dental Offices will do everything necessary to give you the best smile possible.

About All Family Dentist Lancaster CA
The team at All Family Dental Care has been serving the Lancaster, Palmdale, and Greater Antelope Valley Area for almost 20 years. We pride ourselves on making your dentist experience easy and painless. The Staff and Dentist in Lancaster CA at All Family Dental Care are friendly and welcoming. Our patients receive the highest level of service and care possible. Both Doctors are Board Certified Doctors of Dental Surgery and they possess accreditations from the American Dental Association and California Dental Association. At our dentistry in Lancaster CA, we use the most advanced equipment and painless techniques to make your experience as comfortable as possible.