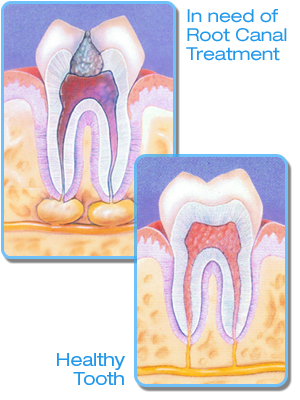 Root Canal in Lancaster CA – Endodontic Dentistry
Root canal therapy is necessary when the nerves affected by decay or infection.  In order to save the tooth, the pulp, nerves, bacteria, and any decay are removed and the resulting space is filled with special, medicated, dental materials, and this process will restore the tooth to be fully functional.
Real Root Canals Procedure Results
Choosing to have a root canal can save a tooth that otherwise would die and have to be removed.  Many patients believe that removing a tooth is the only solution. Many do not realize that pulling a tooth can cause more problems for your remaining teeth.
The Root Canals Procedure
An opening is made to the root area and pulp tissue, along with nerves and vessels, is removed.
Root canals are sterilized with a dental solution
Filling material is placed into canals to prevent entry to bacteria
The tooth is rebuilt with a beautiful, durable dental crown.
About Dr. Robert Khanian – Expert Root Canal Doctor in Los Angeles CA
Dr. Robert Khanian has been in private practice for over 19 years. He is a member of the American Dental Association (ADA), California Dental Association (CDA), San Fernando Valley Dental Society (SFVDS), and Alpha Omega Dental Society (AODS). He is a former USC faculty member.
If you are suffering from a toothache, call All Family Dental Care @661-722-7722 today! We are here to help you.