All Family Dentist Office in Lancaster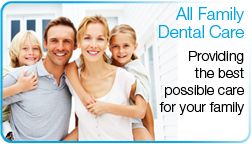 Get the best dental care for your loved ones at All Family Dental Care. The health of your teeth and gums are an important part of good overall healthcare. Routene dental exams and annual check-ups are esay at All Family Dental Care. We are devoted to helping your family restore their smiles. Enhancing the beauty of your smile is our focus. Using state-of-the-art technology in a clean, relaxing environment, our main goal is to provide the most comfortable and pleasant visit for you and your entire family. Read about some of the family dental services we offer.
General Dental Services
Fillings
Tooth Colored Fillings are used to repair a tooth that is decayed or cracked. There are many types of filling methods, but Tooth Colored Fillings are more widely used.
Crowns
A crown covers the entire tooth surface and it protects and strengthens a tooth that cannot be treated with fillings. Porcelain tooth colored crowns are most popular.
Bridge
Bridges are an excellent way of filling the space of missing teeth. Dental bridges are durable and will last for years. Restore your original smile today. Call our lancaster office.
Dentures
Dentures are an excellent way of replacing missing teeth and tissue. They can change your life by enhancing your smile. Call for more information on full or partial dentures.
Exams and Cleaning
A comprehensive exam will be performed in order to help us determine your oral health needs. Professional cleanings are a part regular visits.
Dental X-Rays
Dental X-rays are an important part of our diagnostic evaluation so that we can be sure to accurately detect areas that need care or repair.
Contact Us